Covid 19 at the front line with the Gallowglass Security head of Health and Safety – Petar Petrov
There can be few events in living memory that have brought the importance of effective health and safety measures for business into sharper focus than the current Covid 19 pandemic. In order to ensure safe systems of work and to engender confidence amongst our work force and clients, this is an approach that we implemented at the outset of the crisis, and at a level that exceeded mandated official advice and guidelines. This evolving process has been achieved under the inspiring and informed leadership of our head of Health and Safety, Petar Petrov.
Petar's journey from teaching graduate in his native Bulgaria, through to Gallowglass Security guard before progressing to become our head of Health and Safety has been a particularly fascinating one. His epiphany moment came when deployed to man guard a super prime construction development in central London where he came to keenly appreciate workplace hazards, and sought to apply his intellect and academic background in a way to secure safe systems of working.
From there he studiously applied himself resulting in his achieving a full gamut of NEBOSH qualifications and culminated in his securing through BSI lead auditor status in ISO 45001 (managing occupational Health and Safety at work). Currently he awaits his results of his second degree in Business Studies where he hopes to secure a 1st class honours degree, and from there he anticipates going on to secure a PhD in the wellness aspect of H&S.
Having suffered Covid himself in the infancy of the pandemic, Petar understood that this virus was more serious than other respiratory diseases such as the common cold and flu, and that immediate stringent control measures were required to minimise the risk of Covid transmission at all Gallowglass sites including head office.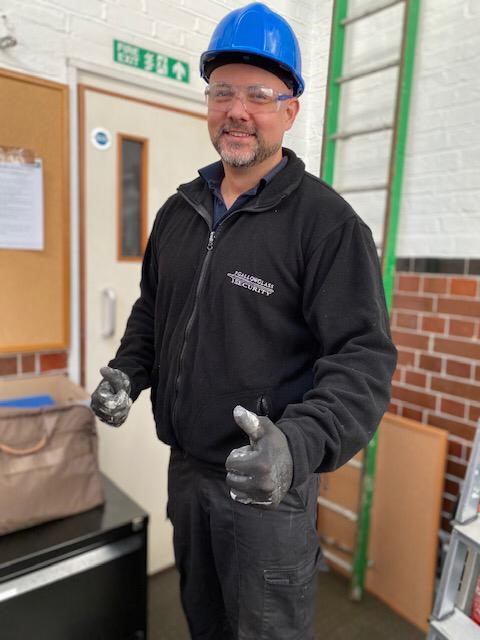 With alacrity, and before recommended by public authorities, rigorous Covid 19 risk assessments were undertaken at head office, and at all sites where our guard force are deployed together with PPE distribution; with the effect that immediate control measures were introduced to ensure safe systems of work for all Gallowglass Security staff and affected stakeholders. Petar fully appreciated that a generic approach to this task would be wholly insufficient to address the risks posed by the virus and that a nuanced approach was required by him, to reflect the particular and specific risks posed to each of our service sectors.
This was a considerable undertaking as it included hotels accommodating rough sleepers on behalf of the GLA, the City of Westminster, the London Boroughs of Havering and Waltham Forrest and the renowned homeless charities, St Mungo's and Crisis. All this together with our fixed ongoing commitments in the public and private sectors requiring both security and front of house cover. Additionally both our street patrol teams as well as our VPI and mobile response teams were similarly assessed, with the correct measures being introduced to safeguard their well-being.
Petar took the view that the measures introduced, would only be effective with ongoing tool box training amongst all Gallowglass Security staff. With this mind he formulated Covid specific awareness training which he delivered at each site and in person. Included in the training syllabus were measures borne of his own research into American medical case studies, which revealed, prior to the knowledge being in the public domain for example, that the loss of taste and smell was a potential symptom of the virus.
As society's response to the virus has evolved, so has Petar's. With the introduction of mass testing and vaccination sites, so has there been the resulting demand for our SIA manned guarding and Covid Marshalls of these centers, such as the ones rolled out by the London Borough of Lambeth at various sites. In turn the formulation and introduction of specific Covid 19 safety measures have been necessary to meet the unique demands of this vital work.
It is not enough for Petar to introduce these vital and effective measures, he is determined to ensure that they are fit for purpose at all times. In particular he records and analyses the clusters self isolation and Covid transmission data amongst Gallowglass Security staff to establish whether patterns are emerging as this helps in turn to determine the efficacy of the control measures, and whether or not revision is required.
Whilst the future is unclear, what remains a constant is that the Gallowglass Security H&S approach under Petar's leadership to the risks posed by the virus, will be relentless and unremitting.
The Managing Partner of Gallowglass Security, Giles Turnbull says " From the outset of the pandemic I have been hugely impressed by the bold initiative taken by Petar to introduce the necessary measures required to safeguard our highly valued guard force In the vital work they undertake for the benefit of society. What is particularly impressive is that regardless of his impressive range of H&S training credentials , that he has used his own intellect and judgment to introduce a range of measures that are unique and effective, and that elevate H&S beyond a tick box exercise"